//Thank you thank you thank you to all the incredible individuals who have selflessly given of their talent, time and energy to present this benefit event to help Zita & I raise funds to help replace all the stuff that got burglarized from our home last month. Like Biggie said, Spread Love, so I'ma take this space to publicly thank and tell you about some of these folks: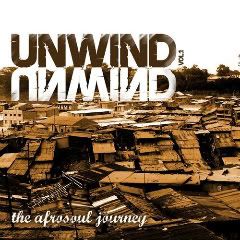 MPENZI

Mwapagha Mkonu
is my bredren til the ending. We have djed together since 1999 since before we even had a crew called Knowmadic DJs. When I called him about the burglary, his first response was "We're doing a fundraiser." That's what family is for...and
DJ Mpenzi
("my love" in Swahili) is an awesome dad, a brother who loves the people, youth and the community...and is one of the hardest-working, cleanest djs in the Bay. All of us who know him have seen and felt his integrity and selflessness. Don't trip when we let the dollar circulate and throw a benefit raising funds so he can take a trip back to his native Kenya and visit his family! His most recent project is his mix
UNWIND Vol.1:
The AfroSoul Journey
, an fresh exploration of the sounds of the African diaspora and its impact on house, soul, and latin rhythms.



MR.E
Mr. Miguel Escobedo championed true school hip hop, funk and soul as a promoter in the City when that jiggy stuff was takin over... and he won! I remember seeing J.Rocc for the first time at his party, Da Joint, back around '03 and it was off the wall, all these people dancing and singing along and going buckwild..and not a single song by 50 Cent or Will Smith! Mr.E is one of the sickest party-rockers in the Bay who can swing reggae dubplates, hip hop classics, 80s, and salsa & merengue effortlessly. And it don't end there, he is also propretier of
Papalote Mexican Grill
with its legendary roasted salsa and marinated tofu & soyrizo in addition to your standard taqueria fare. A Bay original, a SFC representative, and a rare man with a huge heart and without ego. At the 3-year anniversary of the Knowmadic DJ party SHELTER (Oct'04), Mr.E slayed the Oasis patio with
this classic reggae selection
: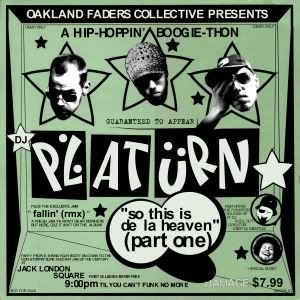 PLATURN
Back in the Telegraph Era (circa '93-'97) I knew tall-ass Luke as the DJ for the Richmond/Albany underground hip hop crew Kaotic Order (I think I got a tape here somewhere). Later Platurn established the DJ crew
Oakland Faders
and is now an internationally recognized selector and turntablist. On the all-around tip he's wicked on the cut, the blend, and the mix, and to say his musical knowledge is vast is an understatement. He's created some of the illest mixtapes ever (
So This is De La Heaven
,
Best of A Tribe Called Quest
) and is featured in a documentary about his journey as a dj to his native Iceland called From Oakland to Iceland: A Hip Hop Homecoming.


VINROC
A true hip hop hero,
VinRoc
is one of the founding members of NY/NJ crew 5th Platoon (Neil Armstrong, Kuttin Kandi), won back-to-back International Turntablist Federation (ITF) belts in '97 and '98, migrated to the Bay and established the elite crew Triple Threat DJs with #1 stunnas Apollo and ShortKut. He also has some of the smoovest mixtapes ever done (the classic Recon_Struction, and his So Much Soul series with ShortKut is now up to 5 volumes!). As his crew name alludes, he combines the best in turntablism, party-rocking and producing music.




SHRED ONE
Coming up as a DJ in the Bay's crowded scene, especially as a woman, is a serious hustle
as Zita can testify
. Filipina sista
Shred One
has been hustling and then some since she transplanted from 2 years ago from LA after doing time in NYC, holding down various gigs virtually every night of the week in every corner of Frisco and the East Bay. She currently throws down Thursdays at Le Cirque,
Brooklyn Circus'
weekly at the Fillimore Yoshi's. Catch her uptempo blend of hip hop, electro, soul and house vibes..and don't be surprised when you bump into a homie on the street buzzing her name, like I did twice in the past month!



JEFF CHANG
This guy
was one of my hip hop mentors, he definitely has been a Yoda to many. I actually got my dj moniker from him one late night at KALX 90.7 radio statio when O-Dub used to have his show. Back when I was an intern for Solesides Records (DJ Shadow, Blackalicious, Latyrx) cold-calling record stores and stuffing envelopes with promo tapes at the office(aka his apartment) he talked about how he was gonna write a book about Ice Cube's Death Certificate. Guess what, that book turned into Can't Stop Won't Stop: A History of the Hip Hop Generation...a book that has garnered more accolades and awards (including beef with KRS-ONE!) than I can remember. He also edited the anthology Total Chaos: The Art and Aesthetics of Hip Hop...all of which have led to his recent naming as a 2008 USA Ford Fellow in Literature. And go back and check the VIBE cover story interview he did with Barack Obama back in May 07 (
part 1
) and (
part 2
). Yuh dun know he is also known as crispy clean DJ Zen and will drop decades of knowledge about reggae dancehall any day. Big up to master and thanks for donating an autographed book!




MIXERFRIENDLY
The name comes from a term that SF creator/designer/DJ
Justin Marine
would use to describe two records that mixed well together. "Positive Apparel" is the tagline, which says a lot in a crowded streetwear game where companies will silkscreen everything from porn stars to handless child diamond miners to sell shirts. Leave it to
Mixerfriendly
to flip the AK-47 in Malcolm's hand as he peers out the blinds into a trumpet; the iconic lettering of De La Soul's 4th album into "
Gas is High
"...and that's only the t-shirts! He is also the designer of dope flyers and
DJ Zita's logo
...and be on the lookout for exclusive collabos with dope musicians like Mark Farina and J-Boogie. True to his generous nature (thanks again for giving my lil cousin a shirt!) Justin has donated 3 canvasses with original designs for the silent auction, which was also his idea. Big up!



MAMA CLOTHING

Gabriella Davi-Khorasanee
is the founder and designer of
Mama
, an SF-based, internationally recognized line for and by the ladies. Zita likes it cause it's "sexy and feminine but not girly", you know for the ladies with streets smarts and class like them badass around the way girls LL was talkin bout. Z should know since Mama has sponsored her from the jump and done a
series of mixes
together. Gabriella has taken her line around the world and is taking her Winter 08 joints straight to East LA with chola-inspired designs. Check out
M.I.S.S. Crew
, her collab with stylist
Liz Baca
, and for the fellas peep her husband/co-owner's design and photography work here at
One Hit Wonder SF
. And of course, can't forget Mama's velvet and lace-wrapped New Eras and exclusive Adidas (she laced us with a pair so you can get laced at the silent auction) ...plus she makes some bomb-ass mac 'n cheese!



JIDAN KOON
An East Bay native and renaissance woman cut from the same cloth as Mao and Angela Davis, Jidan has held it down in the East Bay as a community organizer for the past 15-some years. Like our President-Elect, she knows the ins and outs of public schools and street corner politics, did church-based organizing in Baltimore, and has formal training in public policy from the Ivy League. Back when we went to Cal, I watched her inspire and politicize generations of up-and-coming youth and young college students (including me) in rallies, community actions and high school events. Based in Oakland, Jidan paints, writes and works as an associate with the
Movement Strategy Center
continuing her passion for racial justice and the upliftment of communities of color. Much love to Jidan for donating a canvas for the silent auction.



BRYANT TERRY
When I first met eco-chef extraordinaire Bryant through Jidan (they are now engaged) I could feel that he was a genuine, warm dude...plus he was serving up this off-the-hook grilled peaches w/creme fraice dessert! He and I share the same passions of the people, youth, music and food. For him this manifested in creating a nonprofit in NYC called "b-healthy" based on the principles of the Black Panther Party's breakfast programs, for educating youth in sustainable agriculture, food justice, nutrition and preparing healthy delicious food. He went on to author a book about all of these issues called GRUB, the only book I know with recipes that come with playlists (shrimp & veggie kabobs with Mutabaruka, black & blueberry crisp with D'Angelo!). His forthcoming book is called
Vegan Soul Kitchen
and is the first recipe book I ever saw with cover art referencing Blue Note Records! He is a
Kellog Foundation Food and Society Fellow
and you can catch him
here on NPR
,
here in 7X7SF Magazine
where he is featured as a "Hot 20 under 40," and coming soon in a feature on the Food Network! And if that ain't enough, for those of you getting your menu together, he's got eco-soul Thanksgiving recipes for you
right hurr
. Thank you sir, for donating an autographed copy of GRUB.


//And of course much love always to our families, neighbors, and friends who were right there for us when it went down, and to all our dj fam who lent/gave us equipment to use. Happy Holidays and see yall Friday for a gathering that's about celebrating community! 1neLuv.