//Dear Winter-

//You've got us huddled up inside the house trying to stay warm (hearts go out to those without a home). Got me busting out clothes I used to wear in Boston and Chicago winters. Times is hard, my middle school kids are not even saying anything about the holidays or Christmas, but they are talking about family that got laid off or how they are going to spend their two-week break bored and broke. This year you have coordinated the arrival of your cold with an Economic Winter as well.

Winter, you've got us shivering but we are not shook. In times like these, it is even more important for us to use every opportunity to spread warmth. We know that music, family and friendship (and hey, some liquor too) can keep out the frostbite. You can freeze and blow and (try to) snow outside the double-paned glass, but if you look inside these spots you will see us cozy and smiling:

THIS Saturday, December 20
GOLDEN - Free before 10:30
Golden Soundscapes DJs ZITA & DMADNESS
Midnight Mix - The B Side Wins Again!

Next Friday, December 26
REVERSE - Free Home for the Holidays Edition!
Old School Hip Hop & R&B with Knowmadic DJs MPENZI & DMADNESS
**We will also be collecting warm gear (coats, blankets, sleeping bags, etc.)
to donate to Alameda Point Collaborative which provides transitional housing
for families formerly homeless or otherwise in need of a safe place to live.
Bring your extra presents or unload your closets!

Monday, December 29
SKYLARKING - Free!
Reggae throwdown in the Mission with I&I Vibration Sound's
BEATNOK & MR.LUCKY and special guest DMADNESS

..And they're all either dirt cheap or free, take that! So Winter, stay cold and don't forget to check the bottom for some songs dedicated to you.

Sincerely,

David//DJ Dmadness
Golden Soundscapes//Knowmadic DJs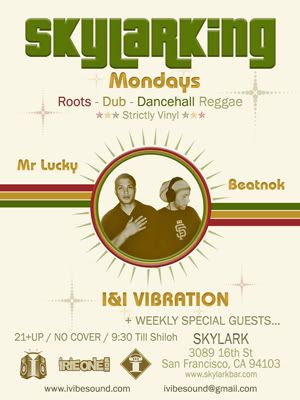 //D's Frosty Five for the Winter:

1. Kirby Dominant - "Snow" (Rapitalism,1998)
What needs to happen to some of these ringtone rappers out these days: Kirby takes you out to the tundra and buries you in the snow. The beat even sounds like snow, especially that key solo at the end. And the Prince sample is just ridiculous. From Kirb's debut album Rapitalism:The Philosophies of Dominant Pimpin.


2. GZA/Genius f/ D'Angelo - "Cold World (rmx)" (Geffen,1995)
Features one of the illest verses by the Wu's most underrated lyricist: Inspecktah Deck. This one sounds like straight icicles. D'Angelo you better put out that album on '09.


3. Goodie MoB f/ OutKast- "Black Ice" (LaFace,1998)
The way Andre syncopates with the drums on the last verse is a thing to behold.


4. T.O.K. - "So Cold" (Secrets Riddim) (Don Corleon,2008)
I love the intro, they come in sounding like ghosts. T.O.K. are the true masters of Autotune, sorry T-Pain, they've been doing it for over a decade and this is how it should be done.


5. Kanye West - "Coldest Winter" (Roc-A-Fella,2008)
You already know about this. Whatever whatever about the album. It's got good songs and bad, it's Kanye being Kanye: breaking the mold but acting like he's the greatest thing ever for breaking the mold. But I feel you on this one 'Ye cause I lost my mom in the past year too.